Myia.Events is free for small events with up to 10 connected attendees. If you organize a larger event you can buy required number of attendees using the Buy More button at the Overview section.

After clicking Buy More the application displays a three-step wizard where you enter the parameters of the event, calculate its price, enter invoicing data and make the payment with a credit card.
Price calculation
Enter the required number of attendees. You can also update the length of the event if you want to allow your attendees to connect and use Myia even prior or after the actual event.
After you click the Calculate Price button, the application displays the total price and how it was calculated above the wizard window.
The price is calculated as the number of attendees multiplied by the length of the event in days multiplied by the unit price. Length of the event in days is equal to every started 24 hours.
Example: An event for 250 attendees starts on June 22, 2017 at 8:00 a.m., ends on June 24, 2017 at 6 p.m.
Length of the event is 58 hours  , which is 3 days. Unit price is EUR 2. The total price is 250x3x2 = EUR 1500.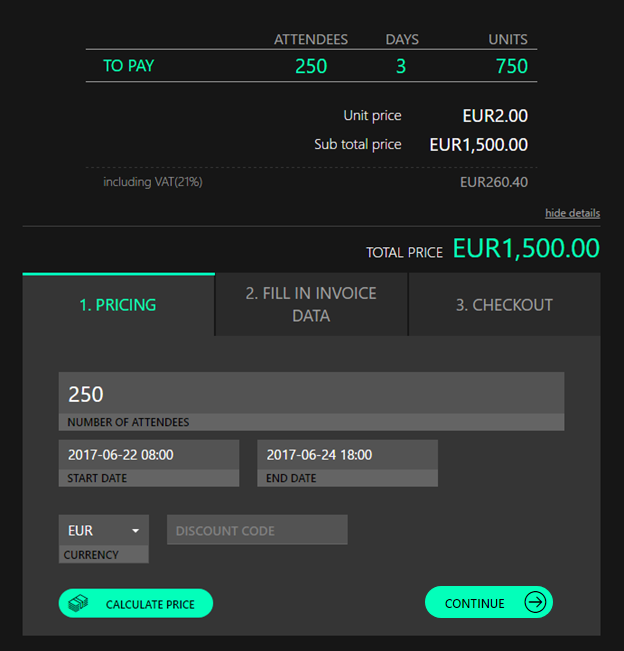 Click Continue to move to the next step.
Invoicing data
Enter the data as you want them to be printed on the invoice.
For European companies: if you enter valid VAT number you will not be charged VAT (reverse charge mode).
Continue with the Checkout button.
Payment
Check that all the entered information is correct and click the Pay By Card button. You will be redirected to the GoPay payment gateway. GoPay is a secure third-party payment gateway. Myia does not see your credit card information. See www.gopay.com
After successful payment you will be redirected back to the payment section, that now displays the payments. Myia.Events will generate the invoice in a few seconds. You can download it in PDF format.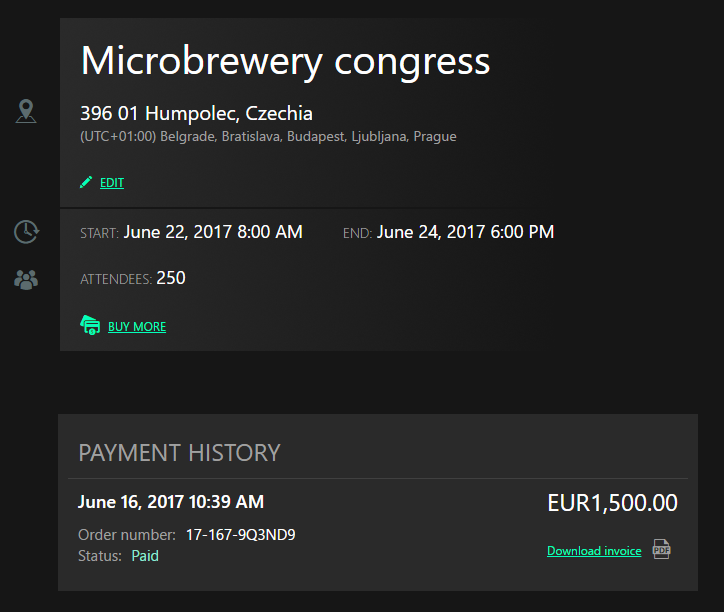 Changing the paid event
If you want to increase the number of attendees or extend duration of the event, click the "Buy more" link (see the picture above). Proceed the same way as is you make the first payment. You cannot decrease the number of payed attendees or make the event shorter.
Next: Data Export