This section applies to the organizers who regularly use Myia and who have the Organization created as an extension service. If you ae interested in this service, please contact our support at events@myia.systems.
The Organization maintenance is available at your profile page, that you can access by clicking on the "user" icon in the upper right corner of the main screen.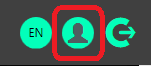 You can add e-mail addresses of your colleagues who shall be able to access all the events belonging to your organization. If anyone belonging to the Organization creates a new event, all other Organization members can access this event.
If you enter an e-mail address of users who do not have their accounts in the Myia.Events yet, they will automatically be added to the Organization once they sign up to Myia.Events with their e-mail addresses.
If you remove someone from the Organization, they lose accesses to all events belonging to the Organization.