The user profile section is divided in the parts:
Attendee profile
Organizer profile
Attendee profile
In this section you define the structure of the attendee user profile. Myia asks the attendees to enter the required information before they can connect to your event. The preset profile fields are: first name, last name, e-mail address and company. You can add more fields or remove some of them. If you want to modify the structure of the attendee profile, click the Edit profile button. The screen will switch to the edit mode.
In the edit mode you can:
Add a new field by clicking the button Add Field
Remove an existing field by clicking the cross icon on the right of field row.
Update an existing field by clicking the pen icon on the right of the filed row.
Reorder the sequence of the items by dragging an item with the mouse pointer to a new position.
BE CAREFUL! Do not modify the structure of the attendee profile (add, remove, reorder items) if the you already invited attendees to the event. Their profiles could become invalid.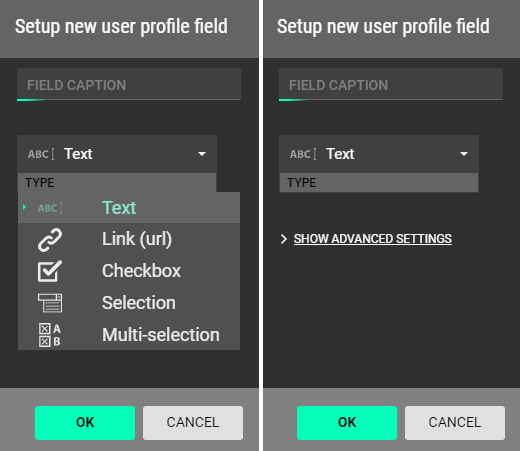 If you click the Show advanced settings label you can set behavior of the profile field:
Show detailed field description – you can add a description to the filed, e.g. it can explain why this filed is necessary or how the data will be used
Must be filled by attendees – attendees cannot connect to the event without filling this field. If you use it with the checkbox type filed, the attendees must check the checkbox to enter the event.
Private data – this profile filed is not displayed to the other event attendees in the mobile app. Its content is available only to the event organizer in the web administration.
Read only – the attendee is not able to change this field. This setting makes sense only if the user profiles have been uploaded from a ticketing system.
Enable multi-line text (Only for Text type)
Display options as Tags (only for Multi-selection type) – changes visual presentation of this field
Limit number of selected options (only for Multi-selection type) – sets the maximal number of options the attendee can select.

If you need additional setup of the attendee profile (e.g. to display some fields depending on setting of another fields or different profile structures for different types of attendees), please contact us at events@myia.systems.
Organizer Profile
In the Organizer section, you create a profile (name and photo) of the author of the messages that you send to the message board from the Myia.Events web app, see page Messages.
If the event is organized by a company, then use the company name and it logo as the organizer profile. If it is an individual, use the real name and profile picture.
Next: Attendees