Myia Terms of use require that the organizer must inform the event attendees who has access to their personal data. In the GDPR section the organizer must list all subjects that receive personal data of the event attendees collected with the Myia app during the event.
The mobile app displays this list of the personal data recipients to the event attendees when they connect the app to the event. The attendees must give their consent for the processing of the data by these recipients. Without the consent is the attendee not able to connect to the event.
If any of the private data recipients is not located in EU then the checkbox "Any of the organizers who process the personal data …" must be checked. In that case the attendees must also provide an explicit consent to such processing.
After you have entered the list of personal data recipients you must "activate" the event with the Activate Event button at the bottom of the screen. Note, that it is not possible to modify the list of personal data recipients after the event has been activated. In case you still need to make a correction, please contact our support at events@myia.systems.
Before you activate the event, the mobile application Myia warns any attendee who connect to your event that the event does not comply with GDPR requirements.
Myia.Events enables the organizers to ask the attendees to give specific consent to sending them commercial messages. This helps them to select only the attendees who are interested in it and avoid negative reactions.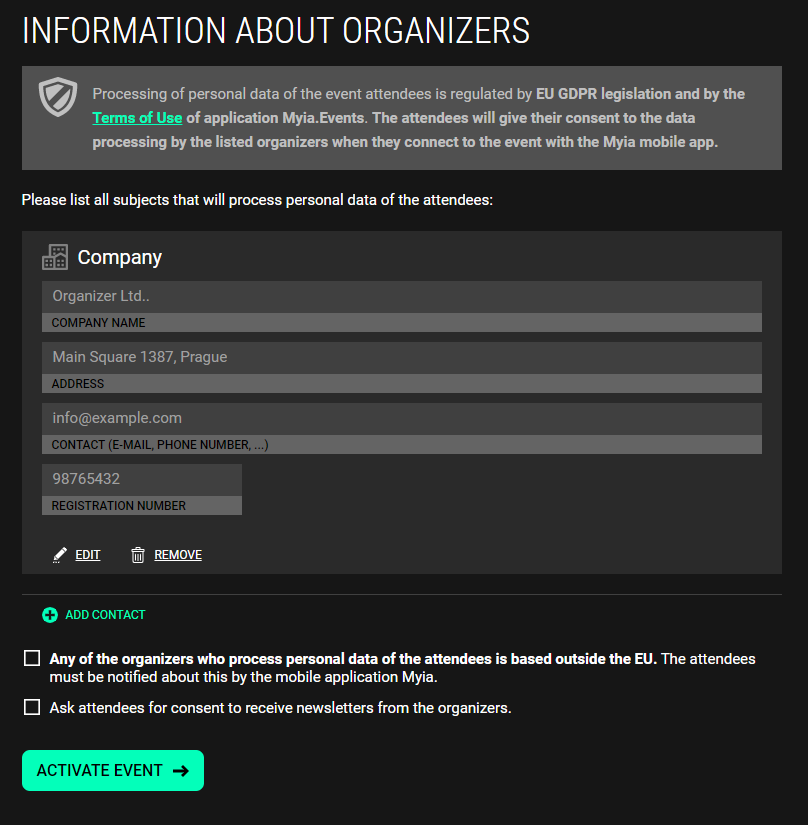 Next: Event Administrators